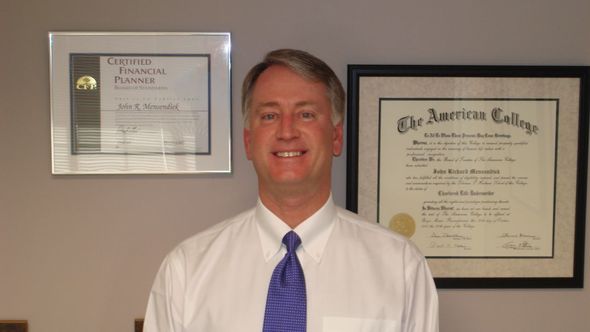 Hello Clients, Friends & New Visitors
MY MAIN SERVICE OBJECTIVE
 "To Assist Clients Address and Manage Many of Their Financial Planning Concerns or Needs"
Background Information 
-- Certified Financial Planner (CFP®) since 1997
-- Chartered Life Underwriter (CLU) since 1995
-- Chartered Financial Consultant (ChFC) since 1997
-- California Life Insurance Agent since 1991, License # 0A90283
-- Registered Representative (Series 7) since 1992
-- Investment Advisor Representative since 2006
-- BS Business, Major- Finance, Univ of Colorado, Boulder 1980
-- Born 1957, married since 1987, 3 children
-- Raised So. Cal., Lived No. California since 1984
-- Moved to Danville 1997
-- Previously commercial banker, 7 years, Union Bank and Bank of California
-- Previously stockbroker, 3 years, Paine Webber & Kidder Peabody
-- Clients in over 10 states with majority in California
Having been part of a family tragedy of losing my father at his age 49 due to cancer and a mother unable to properly handle financial affairs, I jumped right in at my age 23 to assist in managing all of her financial, accounting, business, income tax and estate tax, investment, legal and medical affairs.  After many years of family experiences, a formal investment and banking education, it seemed like a good idea to assist others with the knowledge and skills I had learned.
Therefore in 1991, I joined a highly experienced estate planning professional to start my business.  Many years and several hundred clients later, I continue to enthusiastically enjoy what I do best:  helping people to express and address a financial concern, educating and providing solutions to many of those concerns and maintaining a lifelong and multigenerational relationship.
Today, the most frequent services provided include:
1. Survivor and Estate Planning, including life insurance solutions
2  Long Term Care Planning, including LTC insurance solutions.
3.  Investment Services, including fee based and commission based services, covering:  a.) Retirement Planning & Plans (IRA's, SEP's, 401k, Pension, etc., and b.) Education Funding (UTMA, UGMA & 529 Plans).
Most of the services and solutions I provide are also used by me and my family.  In other words, "I eat my own cooking."  I look forward to your telephone call or email requesting additional information or assistance.
Thank you for your interest.  JM